The Korean peninsula extends from the Asian mainland into the Pacific Ocean south and east, towards Japan.  It's sometimes referred to as the "Land of the Morning Calm".  However, that's a misnomer; Korea's history has been anything but calm.  Korea has the misfortune to be located between three powerful and aggressive neighbors:  Japan, China, and Russia.  Add periodic internal strife, and throughout history Korea has seen substantially more than its fair share of war.
It's a rugged, harsh, mountainous land.  It's bitterly cold in winter – think  Great Plains/Great Lakes cold – and at times is Dixie hot and humid in summer.  Other than its river valleys it has precious little flat land.  Only about 30 percent of Korea's land is arable.
A notable exception is the region extending from the Osan/Seoul/Pyongtaek area generally northwest past Panmunjom towards Pyongyang.  This area includes the lower portion of the valleys of the Han and Imjin Rivers, as well as other reasonably (by Korean standards) open country.  Though nowhere near Great Plains flat, the region is less mountainous than most of the rest of the peninsula.  It's one of the few such regions in either North or South Korea.
This region is called the Western Corridor.  It is so named because the area has been the primary route of armies traveling north-to-south and south-to-north in Korea throughout history.  The historical Korean capital, Seoul, sits square in the middle of the Western Corridor.
— — —
In the early/mid 1980s, there was still only one major road heading north from Seoul.  This road went north to a town called Uijeongbu.  Yes, that Uijeongbu – the town made famous in the book/movie/TV show MASH.
(Historical note:  there really was a US MASH unit based at Uijeongbu during much of the Korean War.  That unit was the 8055th MASH, to which the book's author was assigned.  The book/movie/TV show is based, presumably loosely, on his experiences at that unit. In the 1980s the 8055th's old compound was still used by the Republic of Korea [ROK]Army. I ran or bicycled by that compound on occasion while I was a youngster stationed in the Uijeongbu area.)
At Uijeongbu, the road split.  From Uijeongbu north toward Dongducheon and Camps Casey/Hovey/Castle/Nimble, the road was called MSR3 by US forces.  It continued northward from there, crossing the 38th Parallel and passing through the towns of Jeongok-eup and Yeoncheon.  The branch of the road from Uijeongbu west led past Third  ROK Army (TROKA) HQ.  It then joined another major route – called MSR1 by US forces – northwest towards Munsan-ri.  On its way to Munsan-ri this road passed by Camp Howze.
The road did not end at Munsan-ri.  It continued to the Imjin River, crossed to the north bank of the Imjin, and continued on to Panmunjom.
The bridge where the road crossed the Imjin was called Freedom Bridge.  It was so named because it was the bridge across which POWs released at Panmunjom at the end of the Korean War crossed the Imjin on their way south to freedom.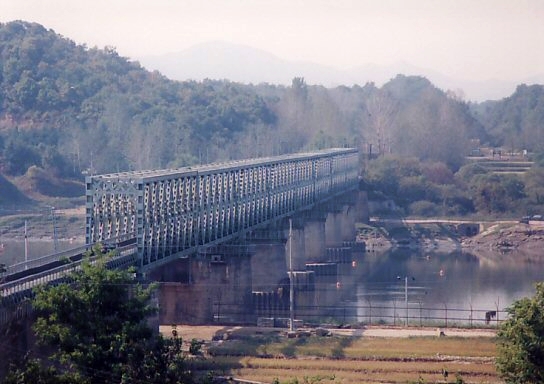 Freedom Bridge

Freedom Bridge is a steel truss bridge.  It was originally a railroad span but had been converted to road use.  Originally there had also been a second, parallel span; that parallel span was destroyed during the Korean War. (The remains of the pilings supporting the former parallel span can be seen in the above photo.)
The road crossing Freedom Bridge was a single lane; traffic reversed periodically.  Guard posts at either end controlled traffic across the bridge. The bridge still exists today but was replaced for north-south traffic in 1998 by a nearby modern structure, the Unification Bridge.
In 1983 Freedom Bridge was the only way to cross the Imjin without swimming or flying – or, during the coldest parts of the winter, perhaps skating or ice-walking.  Since the banks of the Imjin were mined and under observation, you really didn't want to try swimming or skating/ice-walking.  Air transport to and from locations north of the Imjin was also rather scarce.  So if you went north of the Imjin and weren't a VIP, you crossed Freedom Bridge.
North of Freedom Bridge a few kilometers lay the Korean DMZ. In 1983 this part of the DMZ was still patrolled by US troops from the 2nd Infantry Division.
Just after crossing the Imjin the road passed by Camp Greaves on its way to Camps Kitty Hawk and Liberty Bell (renamed Camps Bonifas and East Bonifas in 1986 and 1991, respectively) near Panmunjom.  A smaller road branched off and climbed a hill to a small, isolated US facility nearby.  From Camp Greaves and that smaller facility one could often hear the North Korean propaganda from loudspeakers at their propaganda village, Kijong-dong, north of the DMZ. Even today, it is believed that no one actually lives at Kijong-dong; lights reportedly go on and off in unison as if controlled by a single switch. But the propaganda broadcasts via loudspeaker have reportedly been discontinued.
Kijong-dong, AKA "Propaganda Village" – the large tower was once the tallest flagpole in the world and flew the world's largest flag
This area was often referred to as Freedom's Frontier.
The name was apropos.  The Korean DMZ at that time was reputedly the most heavily fortified border in the world – more heavily fortified, allegedly, than even the Inner German Border (IGB) between East and West Germany.  Though much rarer than during the 1960s, infiltration attempts and firefights still occurred on occasion.  And by 1983 three infiltration tunnels had been discovered running under the DMZ – tunnels large enough to pass thousands of troops per hour.  (For descriptions, see here, here, and here.)  A fourth tunnel would be discovered in 1990; as many as 17 such tunnels are thought to exist.
If you think I'm trying to tell you the area near the Korean DMZ was a damned tense place in 1983 – you are correct.  Freedom Bridge was rigged for demolition, as were many if not all bridges on the main roads north of Seoul.  Numerous tank traps and military roadblocks/checkpoints existed on those major roads and were simply accepted as a normal part of life.  And there was still a nighttime curfew for all persons – civilian and military – in areas close to the DMZ.
Yes, the APF was high.  And from just north of the DMZ, North Korean artillery could reach the northern outskirts of Seoul – so it was pretty damn tense in all areas north of Seoul, not just in those areas immediately adjacent to the DMZ.
— — —
It was to this place that President Reagan traveled on 13 November 1983.  He visited Camp Liberty Bell, just outside the DMZ, and addressed the soldiers there.  He attended a Sunday church service with the troops there.  And he visited the DMZ itself, viewing parts of it from Guard Post Collier.
President Reagan at Guard Post Collier, 13 November 1983
No other US President had been to the Korean DMZ before.  President Reagan was the first.
Reagan's visit occurred during a particularly tense time during the Cold War.  This was 3 weeks to the day after the bombing of the Marine Barracks in Beirut.  It was less than 3 weeks after Grenada.  It was just over a month after the Rangoon bombing, where North Korea had attempted to assassinate South Korean President Chun Doo-hwan and a number of other senior South Korean government officials.  And KAL 007 had been shot down by the Soviets near Sakhalin Island less than 2 1/2 months previously.
(It was also just a few days after I'd come way too close for comfort to getting my own ass shot off by friendly fire.  In the great scheme of things, I guess that would have been minor – but it mattered to me at the time.  Still does, actually.  [smile])
President Reagan was easily within North Korean mortar range at Camp Liberty Bell.  He was doubtless under North Korean observation and was possibly within sniper range during his visit to GP Collier.
I won't quote any of President Reagan's speech that day; the text can be found here.  It was a damn fine speech; even 29 years later it's very much worth reading.  And Reagan's delivery was, as usual, virtually perfect.  He truly deserved his sobriquet of "The Great Communicator".
But the delivery, and even the content, that day were secondary.  What truly mattered was who he was – and where he was that day.
— — —
I can't say I heard Reagan's speech in person or saw President Reagan that day.  My place of duty during his visit was that small remote facility I mentioned earlier, just north of Freedom Bridge.  I was supporting the President's visit from that location.  I recall that we listened to the speech – probably via listening to AFKN radio.  But I had other things on my mind at the time, so I was only able to pay partial attention to the speech itself.
That day was  my seventeenth day in the Republic of Korea.
I would end up staying in Korea for more than two years – two very eventful and meaningful years.  But all things considered I don't think I spent a more meaningful or memorable day in Korea than that day in November 1983.  And that includes the day a bit over a year later when a Russian tourist defected at Panmunjom, risking his life in a desperate dash for freedom and triggering a firefight for which four US soldiers were later awarded the Silver Star.
(It appears this later incident also brought a partial measure of revenge for the Panmonjum Ax Murders of  18 August 1976.  The North Korean officer who commanded the North Korean guards that day in 1976, Senior Lieutenant Pak Chul – AKA "LT Bulldog" – was also present during the November 1984 incident.  Pak reputedly ordered the murders of the 2 US soldiers killed in 1976:  CPT Arthur G. Bonifas and 1LT Mark T. Barrett.  Pak is believed to have been one of the 3 North Korean guards killed during the 1984 firefight.
In any case, Pak has not been seen since.  Good riddance; may he burn in hell.)
— — —
No, I wasn't among those to see Reagan when he made history on 13 November 1983, or one of those who heard his speech in person.  But in a small way I was a part of it nonetheless.
And for the privilege of playing that small part I'll be forever grateful.
(Author's note: the photos in this article are publicly posted on the internet. I have pointed to those external sources to display them in this article.)
Category: Historical