Escaping by sea from East Germany to the West was difficult. As previous articles on the subject have made cleaer: over 5,600 are estimated to have tried. Less than 1,000 succeeded; at least 174 are believed to have died in the attempt. The remainder were caught and imprisoned by East Germany.
Today we have one last article about sea escapes from East Germany. I think everyone will enjoy this one. I certainly did.
. . .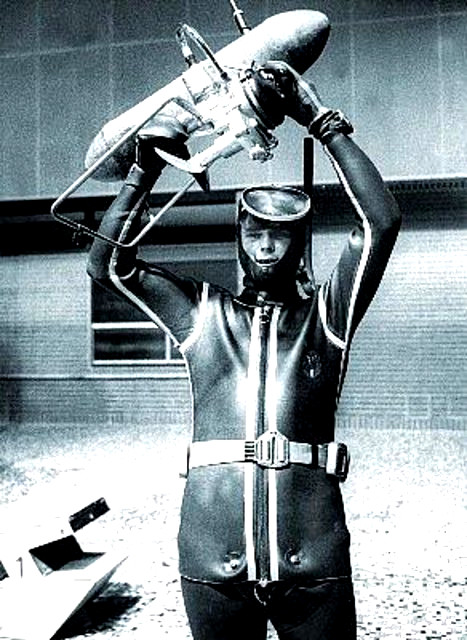 Bernd Boettger was an East German engineer. He was also into water sports and music.
Like many, he detested his life in East Germany and wanted to escape from his prison-state. So he resolved to do exactly that.
His first attempt was by swimming in the Baltic. Unfortunately for Boettger, this first attempt in 1967 was unsuccessful. He was quickly caught and turned over to the Stasi.
However, engineering skills were needed in East Germany. So Boettger was released relatively early from custody, after less than a year.
As was the case with Axel Mitbauer, in releasing Boettger the Stasi had erred. Boettger resolved to make a second attempt at crossing the Baltic to freedom – and to ensure that his second attempt was successful.
Being an engineer, Boettger considered the matter. He determined that his next attempt would involve traveling mostly underwater to avoid detection.
So Boettger decided to design an underwater powered sled that would take him to freedom.
He obtained a small 2-stroke gas engine formerly used in a powered bicycle. Boettger also obtained an automobile cooling fan, which he used as a propeller.
Since gasoline engines require fuel and air, Boettger fabricated fuel tanks and a snorkel for the engine. He fabricated an exhaust chamber to provide some buoyancy using the engine's exhaust. He also fabricated a frame that would allow him to hang on and be towed behind the craft.
He obtained a wetsuit from an aunt in West Germany. And since he would be underwater most of the time during his escape, he fabricated a snorkel for himself – as well as a 12 lb weight belt to help keep him submerged.
When finished, the craft weighed about 22 lbs. And Boettger estimated it would tow him at about 2 knots.
Boettger had no chance to test his device; his craft's operational test was perforce to be during his escape. If it didn't work, he'd face years in prison – or worse.
After dark on 8 September 1968, Boettger slipped into the Baltic near Graal-Müritz, East Germay. His intended destination was Sweden. He safety-tied himself to his tug in case he lost his grip.
As Boettger had deduced, the optical signature of his craft and snorkels was too small to be easily detected. He made it out to see unobserved.
However, Boettger didn't count on ocean currents and tides diverting him; he didn't make it to Sweden. Fortunately for Boettger, those tides and currents swept him to the West – and towards Denmark.
After riding his homemade submarine for approximately 15 1/2 miles, Boettger was picked up by the Danish lightship Gedser Rev. Danish authorities subsequently transported him to the mainland. He had made it to the West, and was now free.
No word on whether the Bundesmarine later made him an honorary Klein U-boot Kapitan or not. (smile)
Sources:
https://www.theguardian.com/cities/2014/oct/17/surfboards-and-submarines-the-secret-escape-of-east-germans-to-copenhagen
http://www.hisutton.com/The%20Escape%20of%20Bernd%20Boettger.html
. . .
Enough Cold War sea stories for today. (smile) Enjoy the WOT, everyone. And have a great weeked.
—–
Author's Note: The photo above is a photo of Boettger and his gas-powered undersea tug. It was taken after his successful escape.
Category: Historical, Open thread