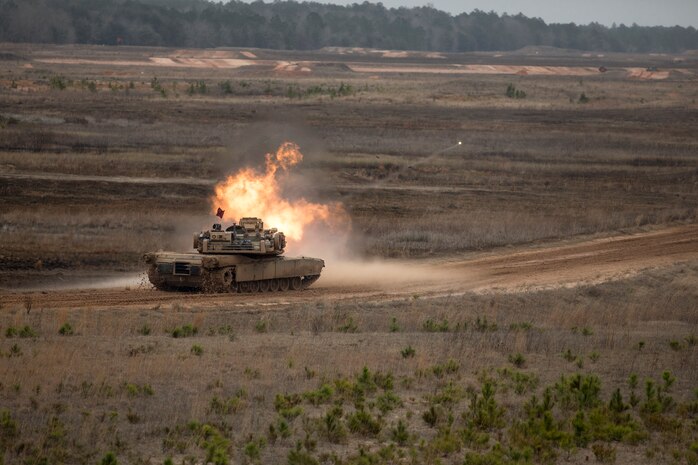 Photo By: Cpl. Aaron Henson
FORT STEWART, Ga. – An M1A1 Abrams tank with 2nd Tank Battalion, 2nd Marine Division engages a target during semi-annual qualifications as part of a deployment for training exercise at Fort Stewart, Ga., Feb. 13, 2018. The DFT provides the opportunity to overcome home station range limitations as well as exercise the battalion's capability to deploy equipment and personnel.  – Photo courtesy USMC
It's a drizzly, chilly day outside and not much going on. So it looks like it's tanks and humvees and APCs and stuff on trains again.  Pop some popcorn and chill the beverages, get comfy in your chair.
Here's a shot of the 2nd Tank Battalion, 2nd MarDiv loading heavy equipment onto flatcars.
https://www.2ndmardiv.marines.mil/News/News-Article-Display/Article/1422317/marines-load-up-tanks-equipment-on-train-for-exercise/
These videos next should keep you equipment counters happy and satisfy API's hankering for trains, too, right ?   These are videos of tanks and other equipment being transported by rail in CONUS.
Train coming out of Flagstaff, AZ.  Some comments are priceless (WWIII is happenin'!)  2018 video by Mini  Monster Truck.
https://www.youtube.com/watch?v=6S8mhy11l9E&feature=youtube
Military transport train near Warren AFB, Cheyenne, WY.  2017 video by Mark Starr.
https://www.youtube.com/watch?v=ZXb2uCcldqc
Snuffy's Cat Productions brings us a BSNF haul of military equipment.
https://www.youtube.com/watch?v=Zmz5_xmsobQ
Military equipment transport train pulling in for new locomotive after one Union Pacific engine had a fire. Rescue by CSX.  Video by Wide World of Trains.
Interesting video – worth the watch.
https://www.youtube.com/watch?v=tovqEDOfIgU
Category: "Your Tax Dollars At Work", Marine Corps